Here we go again!
It's the highly anticipated sequel to Four Square, Four Square
2
!
Every day a pic will be shown that is a composite of the four corners of four different Yu-Gi-Oh! cards.
Monsters, Spells, Traps... could be any kind of card from any set ever!
First person to correctly guess all four cards wins one point.
After 50 images, whomever has the most points wins.
The position of the card images do not change from the original.
For example, if you're looking at the top left corner of the Four Square image,
it will match up exactly to the top left corner of the card it's a piece of.
Rules
You must name all 4 cards correctly in any order to get the point.
NO
abbreviations will be accepted.
Spelling and grammatical errors are accepted as long as the guessed card can be understood.
Beware cards that have similar names, you must be specific.
Make sure you have the card name right or you may be marked incorrect.
Emergency Rule: You must skip a round if you get the correct answer.
IMAGE #50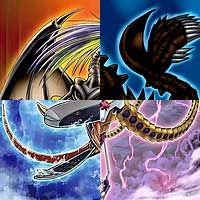 Scores
1. einstein - 16 pts.
2. bighobbit - 8.5 pts.
3. Stardust Dragon - 5 pts.
3. xion52998 - 5 pts.
5. dracostrike - 4 pts.
5. Phazed - 4 pts.
7. gragonith - 3 pts.
8. Victory - 2.5 pts.
9. yustone010x - 1 pt.
9. Loki - 1 pt.