Table of Contents:
-History of Dark Worlds
-Pros and Cons
-Monsters
-Dark World Monsters
-Support Monsters
-Spells
-Dark World Spells
-Tech
-Traps
-Dark World Traps
-Tech
-Playtips
-Credits
History of the Dark World
Dark Worlds are an archetype that has been around for a long time, but has only recently become viable competitively with the release of their Structure Deck, Structure Deck:Gates of the Underworld, very much due to the release of their boss monster, "Grapha, Dragon Lord of Dark World". They were originally released in the booster packs Elemental Energy and Strike of Neos, but did not make much noise in those packs. When Gates of the Underworld was released last October, Dark Worlds were predicted to become a Tier One deck along with Agents and Plants. However, they flopped at many major tournaments following their release, and were soon viewed more as Tier 1.5 or 2, even worse in many cases. In this new March 2012 format, Dark Worlds are one of the most viable decks outside of the Big 3 of Inzektors, Wind-Ups and Rabbits, and with some luck, skill, and deckbuilding you can compete with those decks.
Pros
-Huge draw/search power
-Awesome boss monster
-Big beating
-Can run powerful cards like Skill Drain and Deck Devastation Virus
-Able to control the opponents hand
-Can't miss the timing
-Can be made decently on a budget
-Fun, unusual playstyle
-Kind of unexpected in this format, while still being strong
Cons
-Sort of inconsistent
-Easy to side against
-Highly vulnerable to banishing
-Awkward mirror matches
-Can't use Maxx "C" or Effect Veiler as well as other decks
Now that we've seen a basic overview of Dark Worlds, lets review individual card choices. Please note that there are several different ways to run this deck, so I'm going to review cards that are not particularly useful in a lot of builds, and pretty much everything that is a popular choice among Dark World deckbuilders, even if they're not great cards. Remember, this isn't a guide for people who already know how to build the deck
Dark World Monsters
[spoiler]
Beiige is a very good Dark World monster. He can be normal summoned, and can SS himself when discarded. Should probably be run in Dark Worlds. Note that popular opinion on the posts here seems to be against Beiige, although I still like him, so I guess you can make up your own mind on this.
Broww is another very strong Dark World. He contributes a ton to the great draw power that the archetype enjoys, and should be run at 3.
Ceruli is a very interesting card. As a lot of Dark World monsters have effects that become very powerful when your opponent makes you discard them, and Ceruli does just that by putting himself under your opponents control and forcing you to discard, he can create huge plays for Dark Worlds. However, he is kind of inconsistent, and he does not work too well with some other major Dark World cards. Could be used in a build devoted to him, however. Run 0 normally, 3 in a Ceruli build.
Okay, fine, you can run these two if you want. Useful in the mirror, and another target for DDV. Thanks to Canasian & Czar for pointing out these uses.
Heeere we go. The card that makes Dark World viable. Grapha's greatest utility comes from his huge attack and the fact that he
will not go away
. The only reliable way to get rid of him is banishing, and even that can be counteracted by the use of Trance Archfiend. Run him at 3, or go away.
Grapha does it better. 0.
Uh... no, I don't think so. 0.
If Dark World were Tier 0, I'd consider siding this. Otherwise...Um, yeah, shouldn't be run. 0.
Awesome card! To clear up the awkward wording, you DO get the search if it is discarded by your effect, but not the SS from your opponents GY. Anyway, this card is incredible, gives the deck much, much, MUCH needed consistency. Remember that it can search Dark World CARDS, not just monsters. Run it at 3, always.
Passable if you are on a budget and can't afford things like Tour Guide. But if you are on DN or have a rather unlimited budget, you can run him. He's too colorful
Run 0 if you can get TGU, if not... up to you, really.
Uh... maybe you could side it in if you play the mirror and want to get rid of cards that make both people discard. Run 0 in main, maybe 1 in side, if you really want.
...and then theres some normal monsters, I don't think there is anyone stupid enough to play them, but if there is... I don't even know.[/spoiler]
Support Monsters
[spoiler]
Crazy good. Free level 3 Xyz, you can use it to get a Grapha back by searching Broww, or get a search off Sangan. In the grave, it's a target for Gates of the Dark World. Should be run at 3 if you can afford it.
Good card. Searches Tour Guides (and is searched by them) Broww, Trance Archfiend, Ceruli...
Awesome new card from ORCS. This guy has a huge amount of utility, discards, gets back Gates targets, and helps us recover Grapha if he gets removed by some mean old Crow or something. Still, he doesn't seem very nice, eating cute little Genex Ally Birdman and all
Run 1-3, I'd lean towards higher numbers.
This guy used to be really popular, back when Gates of the Underworld was just released... He has since fallen out of favor, and I don't really think you should bother with him... this deck doesn't need to synchro, nor is it that desperate for discard.[/spoiler]
Spells
[spoiler]
Pretty good and all. Use it at 2 or 3, take it out if you play the mirror.
Awesome card. AWESOME. A discard and draw every turn, along with an attack boost make it one of the best cards in the deck.
Um... I guess you could use this if you're really budget. Best use is probably throw it down in the End Phase of your opponents turn and use it to bring back Grapha next turn.
You can use it in place of one or two MST, and it's okay in that role. Unfortunately, you don't get the discard if they chain, so it's best to use on set monsters.
Very good. Hand control, discard and draw, three things Dark Worlds love. Make sure you don't use this with non-Dark World cards in hand.[/spoiler]
Very powerful card. The massive amount of effects you can get off is awesome, and it gives you a lot of draw power. Should definitely be run, 1 because it's limited.
Traps
[spoiler]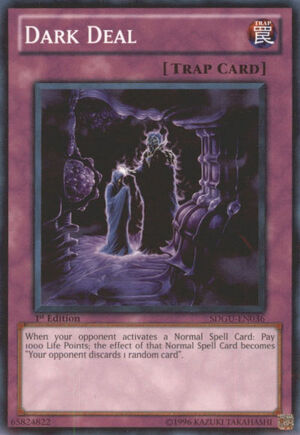 Too situational, although it does have an interesting effect.
Giving the opponent the option to 1 for 1 negate your cards is not good.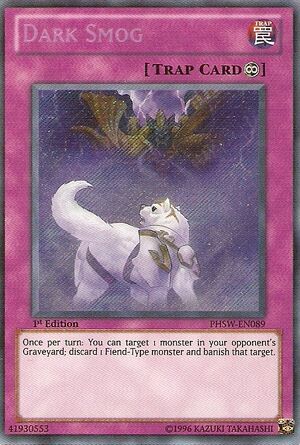 One of my personal favorite Dark World cards. Spell Speed 2 graveyard removal is awesome, as well as a reusable source of discard. Can be used to get rid of important things like Hornets, Hunters, other Graphas, Reborn targets... Run 0-2, depending on preference.
Meh. Unneeded, but if you really want you could run it.
DDV is awesome, EEV not so much right now, but could be depending on the format. For both of these, you would like to tribute Grapha, as losing him is not a huge problem considering how easy he is to get back. DDV can be back breaking, just think about the cards it gets rid of... WU Rabbit, Rescue Rabbit, Dragonfly...
I like to run this... Dark World cards are completely unaffected by it, but that's not true of many other decks. Consider carefully how you use this when you use cards like Trance Archfiend, Tour Guide or Ceruli. 0-2.
Fun card. You get a decent amount of looks into your opponents hand with Dragged Down, DDV, or even Grapha's secondary effect that allow you to be pretty accurate with this. You can also guess wrong on purpose to get an emergency discard.[/spoiler]
How to Play Dark Worlds
-Extra should be a bunch of level 3 and 4 Xyz, maybe some synchros for Reborn/Mind control if you choose to play it, or Raven if you do that.
-Get Grapha back, a lot. Like, whenever he's not on your field, make him be on your field.
-Reborn>Any Dark World>Grapha. Fun.
-From what I can see, Grapha>Dino Rabbits. Their weakness is to big beaters, and Grapha is that, while also being recurring. If you can keep Grapha on the field, you can beat them.
-Wind-Ups and Inzektors on the other hand... not so much. WHY COULDN'T WIND-UP HUNTER SAY DISCARD INSTEAD OF SEND? WHYY? Anyway, those matchups will be troubling. Against Inzektors, stay off the field unless you have Veiler or Fiendish to back your advance up. Just keep bringing back Grapha to beat down what you can... its tough though. Against Wind-Ups... set everything, and summon as much as you can.
-You can beat most of the other Tier 2 decks... BubbleBeat provides little resistance, Six Samurai are very beatable...
-It's a goddamned cost, idiot. Don't come here and tell me I forgot Lightning Vortex. Dark Worlds don't work with costs.
http://yugioh.wikia.com/wiki/Cost
if you don't get it, read that.
Skeleton Dark World Deck List
3 Grapha
3 Snoww
3 Broww
3 Beiige
3 TGU
1 Sangan
1-3 Trance Archfiend
3 Dealings
3 Dragged Down
3 Gates
1 Card Destruction
1 Dark Hole
1 Heavy Storm
1 Reborn
0-3 Fiendish
2 Warning
2 TT
0-2 DDV
0-2 Skill Drain
1 Judgment
Hey everyone, Dark Worlds just won a YCS!
Here is the decklist he used for that tournament, as posted here
http://duelistgroundz.com/index.php?showtopic=142974
13: 17 : 10:
3 Grapha
3 Snow
3 Broww
1 Beiige
2 Tour Guide
1 Malefic Stardust Dragon
3 Gates
3 DW Dealings
3 Dragged into the Grave
1 Monster Reborn
1 Heavy Storm
1 Foolish Burial
1 Allure of Darkness
2 Upstart Goblin
1 Dark Hole
1 Card Destruction
3 Reckless Greed
2 Mind Crush
1 Torrential
1 Starlight Road
1 Solemn Judgment
1 Skill Drain
1 Deck Devastation Virus
Extra: 15
2 Stardust Dragon
1 Fabled Raven
1 Leviair
1 Leviathan Dragon
1 Utopia
1 Utopia Ray
1 Zenmaines
1 Gigabrilliant
1 Brionac
1 Catastor
1 Black Rose Dragon
1 Scrap Dragon
1 Acid Golem
1 Chimeratech Fortress Dragon
Side: 15
3 Mst
2 Gellenduo
2 Royal Decree
1 Gozen Match
1 Fabled Raven
1 Cyber Dragon
1 Maxx "C"
1 Mirror Force
1 Gorz
1 Morphing jar
1 Dark Smog
It's a fairly unusual way of running the deck. Malefic Stardust is an unusual choice, as is 2 Tour Guides and no Sangan, so I guess he's using Broww for that purpose a lot, or plans to only use TGU once and get the other one. Funny that he managed to get through a whole YCS without packing a single Veiler, only one Maxx "C" and 0 Fiendish Chain, what with all the talk about how necessary they are. I guess the Fabled Raven in Extra is a typo?
Viewing his tournament report indicates that 7 of the 18 rounds he played were against Rabbit, so it becomes even more clear the Dark World can and does beat Rabbits. In addition, he had another matchup against Skill Drain heroes, which is funny because lol@ using Skill Drain against Dark Worlds.
Anyway, this is a good day for Dark World players everywhere.
If anyone has any decklists they would like to share for me to post, PM me
I'd love to have more examples.
Thanks To:
Everyone on YCG
for making this a pretty cool YGO website
All those who have written guides here
YCG Admin and Mystic for running this website.
If there's anything wrong with this guide, please let me know by either posting here or PMing me, I'll be sure to fix it.
OH and I need a name... if anyone has any ideas.