This guide is to simply teach you on what cards you do and do not need in a harpies deck. Simple explinations why as well
The Cards you need
[/color]
[spoiler]
Harpie lady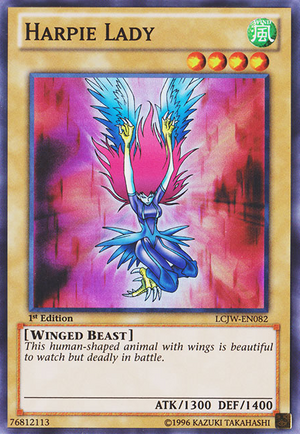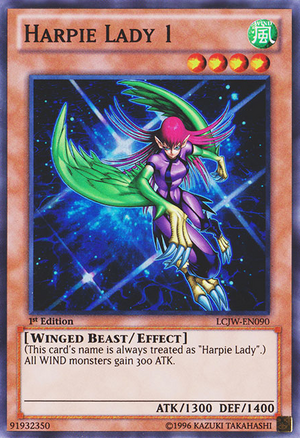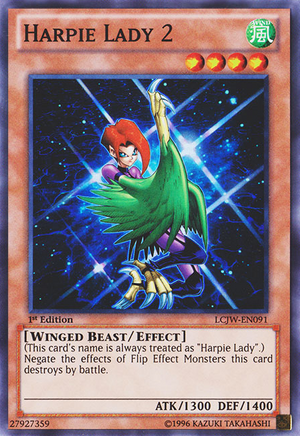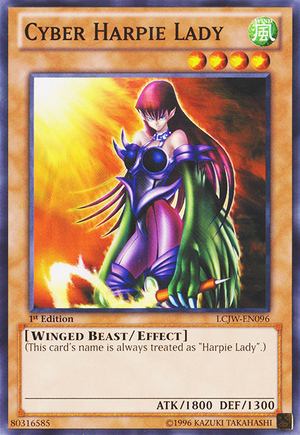 Use the ones you preffer. This card is a 3 of. All of these cards are Harpie Lady at all times. I prefer Harpie Lady 1, Cyber Harpie Lady and normal Harpie Lady (depending on the build).
Harpie Harpist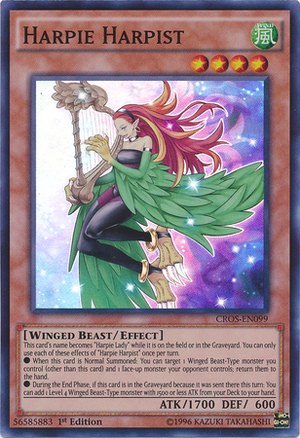 New Search engine for the deck. in Combos with Cost cards like Harpie Channeler for the pitch or even if its sent by cost you still get her effect for the end of turn search. Also can work directly from the deck with cards like Foolish Burial and discard outlets. The second effect although i rarely use it has come in clutch and allowed me for a next turn come back mainly using this with Channeler and Dancer combos also Divine Winds Mist Valley. So run 3. Helps make the deck a bit more consistent.
Harpie Channeler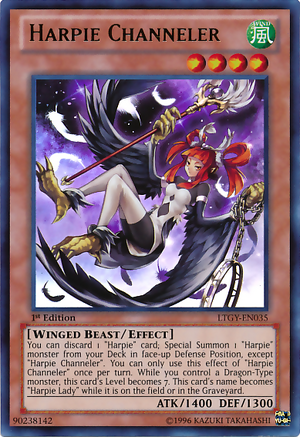 This is the best card in the Harpies Deck. Allows you to special summon a Harpie by discarding a Harpie. Can Special Summon Dancer to return Channeler to hand to use it again next turn. Run 3 Channeler
Harpie Dancer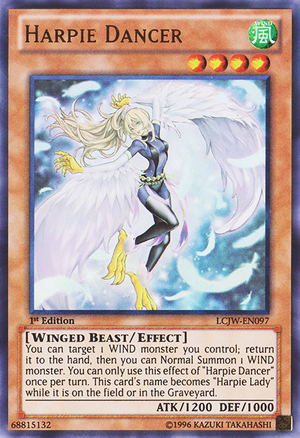 I often get people to burn up their Effect Vielers, Solemn Strikes, and even Warning to keep their back row alive which halve the time in this format i won't mind in a spell heavy deck. Combos well with Grounds getting rid of double scales/back row if needed. Run 3
Harpie Queen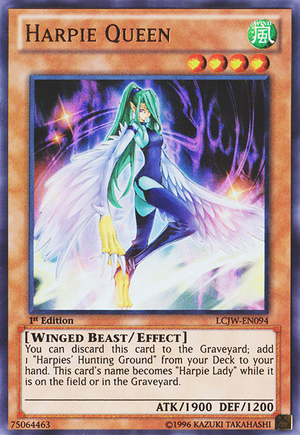 Allows you to search the
spell for Harpie's run 3 Depending on room in the deck.
Harpie's Pet Dragon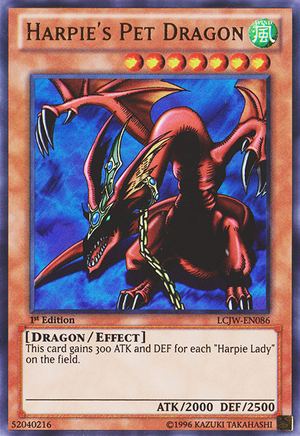 Searchable with Harpie's Channeler and allows you to make Rank 7 monsters. Run 0-1 depending on preferance rank 7's aren't much this meta though.
Harpie's Pet Baby Dragon
Not a huge fan of this card. Run it if you want up to you. But in all honesty run 0.
Harpie Lady Sisters
Not a Fan of this card with only 1 way to summon it. Run 0[/spoiler]
[/color]
[spoiler]
Harpies' Hunting Grounds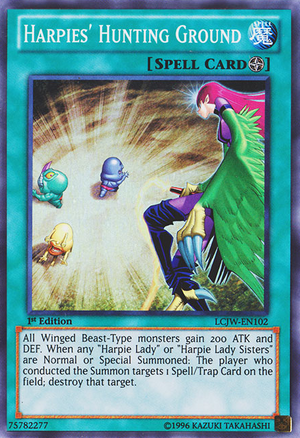 Clears your opponents back row and boosts your monsters. You can also use this card to activate Harpie Channeler's effect run. Also use this to blow up Hysteric Sign on turn 1 for the search. 3
Hysteric Sign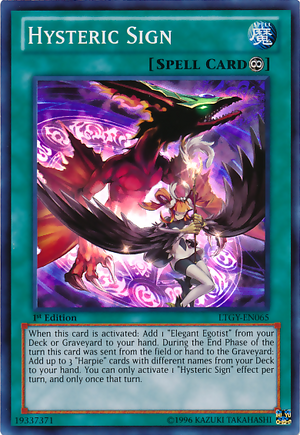 Search engine card and the one of the most important cards in the deck. I often set this card and let my opponent use Mystic Space Typhoon on it or play hunting grounds and a Harpie i have them. Able to search Egotist comes in clutch too. Run 3
Elegant Egotist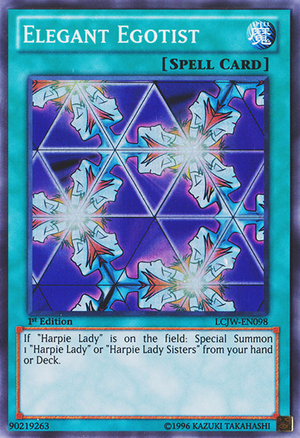 Searchs Harpie lady from the deck to special summon it to the field. Can be pulled from the grave with sign if needed. good for overlays of Rank 4's. Only need 1. Can get it from grave with Sign if needed.
Harpie Lady Phoenix Formation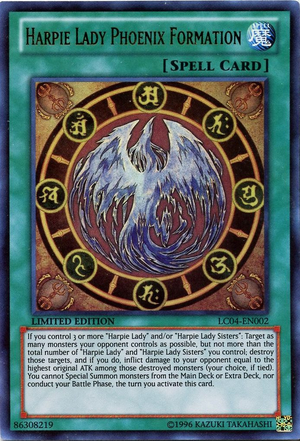 Unneeded card. Would run Dark Hole over this. You lose your battle phase even if you do destroy monster and inflict damage it has too many draw backs. Run 0
Hysteric Party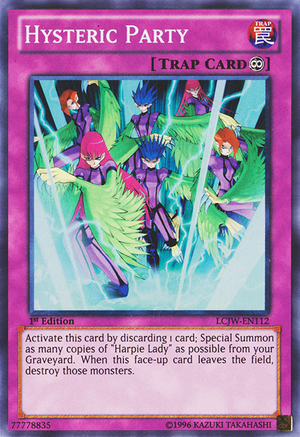 This is the most broken card in the deck. You can swarm the field easily. This card is the reason this deck wins games often. If your opponent does not have
Mystic Space Typhoon
, Solemn Warning, Bottomless Trap Hole, or something to destroy Hysteric Party with. Run 2-3[/spoiler]
[/color]
There are many support card for this deck. So am going to focus on the main cards over anything.
[spoiler]
Symbol of Heritage
With all cards in grave having the name Harpie Lady this card can be fun. Allows you to gate either Channeler back or Dancer. Has no cost so can be useful.
Divine Winds of Mist Valley
This card had a First Turn Kill Deck once upon a time and works well with Harpie Dancer. Its now limited so if you want to run it run 1.
Genex Ally Birdman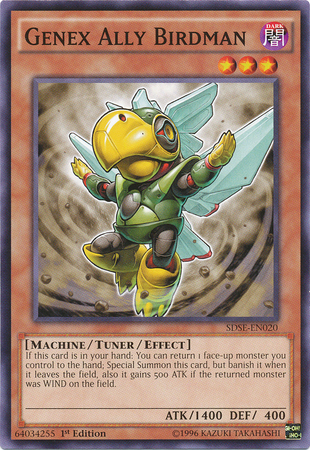 Good with Divine winds and since you special summon a lot can allow you for a level 7 Synchro Monster.
Mist Valley Soldier
Allows for level 8 Synchros. good Card all around run 2-3 if you want depending on build. Also his effect doesn't target so it tends to come in handy against Monsters that can't be targeted.
Summoner Monk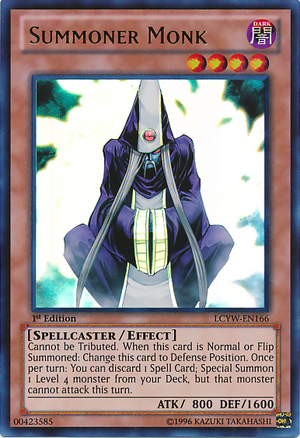 Synchro and Rank too for level 8 synchro and rank 4 monsters. Also with this deck being spell heavy it works well. Also by using this to discard Hysteric Sign give you a huge push in this deck. run 0-2 depending on build.
Icarus Attack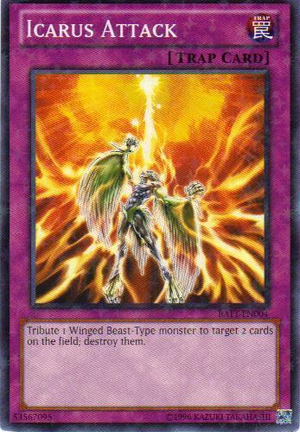 So just pop 2 things on the field. Your own Hysteric Sign or 2 cards you opponent controls. Run 1-2 of depending on room. Reason i only run 0-2. 3 seems like too much and would rather have room for other cards if you run it at all.
Rescue Rabbit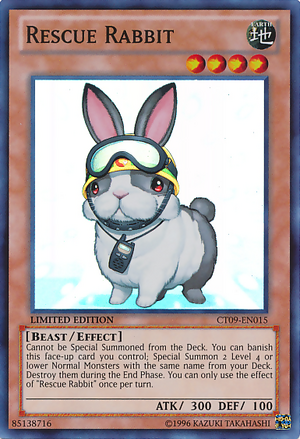 Use if you are using Normal Harpie Lady for fast Rank 4's. Also add an extra set of level 4 wind winged beast monsters in your deck for access to anything in your deck. If you do decide to play the Normal build you might consider Unexpected Dai and Diagusto Emerald
Three of a Kind
Card is better that Harpie Lady Phoenix Formation but i prefer to use Icarus Attack.
Treaty on Uniform Nomenclature
So depending on how many cards you have on your side of the field with the same name this card get better. Turns from
Dust Tornado
into a
Harpie's Feather Duster
. So can work well in combos with Hysteric Party.
Raiza the Storm Monarch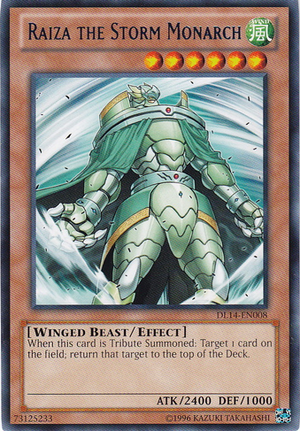 Card is fun in the Raiza build. Can Normal Summon Harpie Dancer off of Harpie Channeler or Summoner Monk then return Dancer to hand to Tribute Monk or Channeler for Dancer. Can also do this with Divine winds of Mist Valley and Dancer to gain the tribute foder for Raiza. Blackwing - Zepheryos the Elite to return Raiza to hand and become a tribute foder. Also if Raiza is on the field you can use the effect of Dancer to return Raiza to hand and use Dancer as a tribute. Also running cards like
Phoenix Wing Wind Blast
and Lightning Chidori you can keep your opponent drawing the same cards over and over setting your opponent back multiple turns.
Garuda the Wind Spirit
If you run any card that banishes i recommend this. Not its effect isn't all that great. it only special summons once. however its both a Winged Beast and a
type monster. So goes into most of the stuff you have in extras deck. Can also wok combos with Harpie Dancer to return this to hand. Normal summon another
monster and re-special summon this. Since you can discard Harpie Queen from hand can easily be special summoned
Slipheed
Another card that only needs 1 Banish to special summon it. Has a decent effect. Is a
monster so can go into Chidori and Phantasmal Dragon. Can also wok combos with Harpie Dancer.
Magical Hats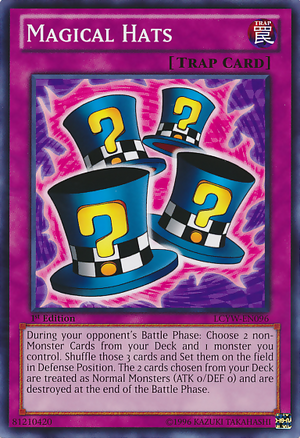 Had to add this to the guide. will help you thin out your deck and use Hysteric Sign on your opponents turn.You either protect your monster or lose all 3 cards. I also like to use
Breakthrough Skill
as a grave dumper which also helps to thin out your deck. Run 0-2 depending on play style.
Windrose the Elemental Lord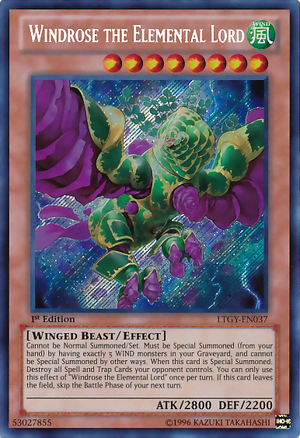 I know what you are thinking but looks can be deceiving. Yes its a
Harpie's Feather Duster
. Yes its easy to get out. But if it leaves the field you lose the battle phase of your next turn. So if this gets
Bottomless Trap Hole
chained on to its summon. Yes it still gets its effect but if you can't win the game the turn you summon it on your next turn you lose your battle phase. So if you want to chance it run 1.[/spoiler]
[/color]
I am not gonna list all the extras you can use in this deck. Just point out which options you do have that others do not or cards for Extras that have hire use in this deck.
[spoiler]
Lightning Chidori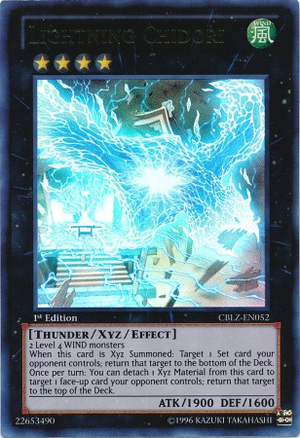 A double effect Rank 4 monster. Its first effect can however miss its timing if your opponent activates the set card (even if its a continuous trap or equip trap card) it still doesn't go to the bottom of his deck. His other effect can help you to set your opponent back 1 turn by targeting 1 Face Up card on the field and sending it back to the top of his/her deck.
Harpie's Pet Phantasmal Dragon
To answer all questions commonly asked.
.
No you can't be attacked directly if this is the only card on the field.
To Confirm Ruling
.
No your Harpies monsters can't be targeted by spell, trap, and monster effects.
.
Only way to take this out is Dark Hole or Torrential Tribute.
.
Yes this attacks your opponents life points Directly.
This card is broken as all and as such a 1-2 of in any side deck for Harpies. All questions that have been asked about it are answered.
Diamond Dire Wolf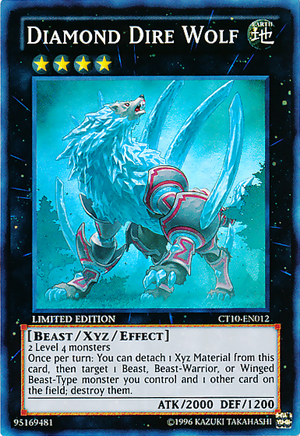 Since you are running winged beast this cards becomes more useful.
Ice Beast Zerofyne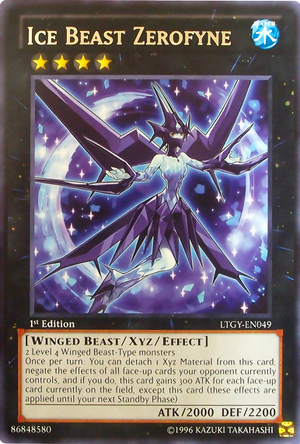 Gets boosted for each cards face up card on the field (this includes spell and trap cards as well as your feild spell card) and gets around stuff with continuous effects on your opponents side of the field. He stops continuous effects of effect monsters your opponents controls. Can easily get his attack over 4000 after using Hysteric Party.[/spoiler]
Deck List
[spoiler]3 Channeler
3 Dancer
2 Harpie Lady 1
1 Cyber Harpie
3 Queen
3 Harpist
1 Blackwing - Zephyros The Elite
3 Upstart Goblin
3 Hunting Grounds
3 Sign
2 Twin Twister
1 Foolish
2 Instant Fusion
2 Hysteric Party
1 Solem Warning
2 Solemn Strike
2 Quaking Mirror Force
1 Time-Space Trap Hole
1 Bottomless Trap Hole[/spoiler]
This is just a sampler deck. Its not 100% to your play style so be sure to play it more towards your play style. The only thing in my deck that never changes is the core. The extras Changes a lot with the exception of the 2 Chidori and 1 Castel. The Spell and traps will change depending on the format. With the exception of the Hunting Grounds
So Combos with Harpies all depends on your play style but 2 card I find myself playing a lot and combing with a lot are Foolish Burial and Zephyros the elite. As well as Discard Outlets. Here are some things I've ran into with these cards.
[spoiler]If I see Foolish and Hysteric sign in opening hand I know i can use Zephyros in many combos with just those 2 cards.
For example I start turn 1 with 2 trap card, Harpies Harpist, Foolish Burial and a Hysteric Sign.
Now I will use this hand and Pitch Zephyros with Foolish. Play Sign and Search. Use Zephyros to Pump sign back to hand. Play Harpist and Synchro into Giant Hand or Rafflesia to pitch your Harpist on opponents turn. Now a lot of people feel you need to rush the harpist play but waiting for your opponent to make a move works well. You can even bait an early abyss dweller and detach the channeler vs the Harpist to have a chance to keep your plays alive. But this gives you a free play on your turn with Harpist if you add Channeler to hand and don't draw a harpie for her allowing you to have an egotist play and possibly a second which can win you the game if you do hit a harpie by Pitch for chan eff search harpist and go into Egotist and Sign into egotist again allowing you to have 2 harpie lady 1 and with chan you search dancer so you and bounce dancer and get it back to hand so you can attack with dancer too. This makes the damage you will be doing 2000 from Chan. 1900 from both lady 1's and 1800 from harpist. finish this with cowboy for game. Foolish also can trigger the effect if Harpies Harpist and also running cards with discard outlets to get cards like Zephyros, Sign, and harpist into your graveyard. Running card like Twin Twister (good spell removal on opponents turn) and Phoenix Wing Wind Blast to name a few.
Now lets take that same turn 1 hand and add a Channeler and take away a trap. Here you can pitch for harpist effect, use sign, use foolish, use egotist. This gives you four mons with Zephyros the elite. Now you can make both Giant Hand and Rafflesia and have a set trap and sign for twin twister bait. So simple ways of making huge plays by adding 2 card. Other cards that are face up spell, traps, and monsters that have huge gains if returned are Hunting ground and Hysteric party.[/spoiler]
Why Run 3 Harpie Dancer?
[spoiler]Now a lot of people ask why run 3 dancer. The reason is this card allows you to pump cards back to hand if needed. For example you have 15 harpie monsters in your deck and you want to see them for Channeler targets. Also by adding 3 Hunting Grounds you have 18 Harpie cards in your deck. This also allowing you to work more with Chaneller and put her back to hand with Dancer effect to use it again next turn. This also allows you to use harpist second effect giving you Dancer back to hand as well so you have a pitch target and you won't mind your Harpist going to the grave. Also dancer works well with grounds to get rid of cards like Solemn Strike and Bottomless trap hole. I am sure you won't mind your dancer getting hit by Strike or Solemn because it will clear the way for your plays next turn. They pay 1500/2000 LP to get rid of my 1400 Dancer with Harpie hunting grounds seems like a trade in my favor if I have back row.[/spoiler]
When to use Hysteric Sign and Elegant Egotist
[spoiler]Now Hysteric Sign has 2 effects and can only use one effect per turn. But most people look at this card mainly for its search 3 effect. But for me it all depends on the Situation for which effect will be more important. Like if I need a harpie monster now and my opponent has back row. i have in hand Harpies hunting Grounds and a Channeler with a Sign. No my opponent has 3 back row. Her is where thinking comes in largely. I can Play the party and set the sign and hope my opponent uses twin twister (value there) or I can chance it. I can play the Grounds and Channeler first and get over opponents back row. If i hit a Solenm Strike and use Sign and it goes through i am going to use the Egotist and get rid of another back row and another boost with Harpie Lady 1 and attack in with Two monsters. Now this can lead to OTK combos as well.
You don't want to rush your egotist play unless you are either needing it for you XYZ's or you can wait and play it for the push. For example i have a Harpist, a Channeler, and a Sign in hand with hunting grounds. Your opponent has 3 Traps. Now you can play the grounds and chance your chaneller getting hit. If she doesn't then you get rid of a back row. Now if you pitch Harpist from hand and SS another Harpist. If your opponent didn't use a back row to stop the effect of channeler or the summon of harpist its safe to say that last card is nothing. Now if you fear that card is Time-Space trap hole (which at this point is the one card you have to fear) then it is safe to say you don't need to play the egotist unless you are pushing for game. Then you would search for your dancer and Re-normal the dancer. But Safe bets say you are clear for a chidori play and its just a bluff.
This way you chance Harpist effect on opponents turn, you have egotist if that fails for your turn, and you are free for a guaranteed to get your XYZ summon. With Harpies you need to play conservatively. The deck can be aggressive when it needs to but using these cards properly. This is the difference between playing these card properly or not at the correct time. Sign's second effect is good early game however mid to late game is only good if you have at least 5 harpie cards left in your deck. This means do you want to lose 3 more cards in your deck or do you want to keep them there. If I have a Harpie Lady left in deck I would rather search Egotist than have a hand full of monsters late game unless I was in a position to win the game off of that play. However turn 1 if i see Sign and Dancer and Grounds and a Foolish. I am going all in for that play and an XYZ's off of Zephryos, get Grounds back to hand, have access to Ice Beast if I need it, then at End Phase I search 3. Enough said there.
With all this you can see there are many positions you can end up in where these cards can come in handy and how you might want to play them later than sooner to think more turns ahead. You want to gain the max amount of use out of these cards being 2 of your trump cards in the deck and getting to use them at the proper timing gives you more value during the entire match.[/spoiler]
Hysteric Party ISN"T JUST A WIN CONDITION!!!
[spoiler]So I know what you are thinking and no you are wrong. There are other ways you can play Hysteric Party and it come in at the clutch or have value written all over it. For example you can Punish a pendulum player for over extending their plays and getting rid of a scale making your opponent stop them from doing anything. Now however this only counts as 1 summon so you will only be able to get rid of 1 card your opponent has in their pendulum zone. This card can also help you take out back row at end phase. Now if Zephyros the Elite or Hysteric Sign are in hand with a Harpist in grave, if you opponent goes to destroy a face down you can flip it and get value off the card this way.Possibly hitting a spell/trap with grounds, getting sign (for search 3)/ zeph into the grave, and a search with Harpist.
Speaking of Zephros you can use him to get Party back to hand and lose 0 value even if you don't otk here. Lets say you use sign and flop 5 monsters on the field. You can't OTK this turn but you have the set up to next turn. now lets say your opponent has a card that can't be destroyed or targeted by opponents card effect. You now have free range to make Zephroys the elite. Using it you can now make a play that will matter what your opponent has in hand and if you can risk a Chidori play to set your opponent back a turn or an Abyss Dweller play to punish the DD. Now from here you can use the effect of Dancer and put her back in hand and Zephyros to put party in hand. This may be game over but if not your opponent now has another card to fear.
This card can also be used to keep an opponent from being able to push for game. Easily better than Call of the Haunted because you can put them all in def. Can push multiple Harpist making your opponent kill them first or not at all so your Channs are free or make it where your opponent cant attack and is pushed into a wall and ends his turn.
So this card is good for more than OTK's. Its MST if needed, a pitch target, and Defensive tool. So you aren't just going to be using this card to win the game I promise you.[/spoiler]
Norden Tactics (if Him or instant fusion doesn't get hit on the banned list)
[spoiler]So reasons to run Norden I have plenty.
1. Harpist Harpist - Now this card (if you got your search out of it) you can bring her back easily for an encore.
2 Foolish Burial - enough said.
3 Harpie Queen - free search free XYZ enough said.
4. Harpie Channeler- Pitch a monster and make 2 xyz's enough said.
5. Harpie Lady 1-3/Cyber Harpies - works under grounds and stays a harpie lady for free MST.[/spoiler]
So with this you can see that Harpie card aren't just for one things and how to use them more correctly. My Sample deck I like it a lot current format however i am thinking of adding more versatile cards to hit a larger number of deck so will probably do things like add in Light-Imprisoning to hurt more deck over running Cyber Core which effects machine decks only. But we will leave that for another time.
Siding/Extras For Harpie's
So when Siding for a Harpie's deck you may want to take a second look at what you want to side for your deck.
Cards like Statue Barrier win for example. This card with Swallows Nest can disrupt your opponents plays and if their deck relies heavily on special summoning it can stop them from making plays and winning a game. However using this card with the majority of your deck being wind will allow you to play some card in your extras deck it may hinder you from playing cards you may need.
However siding cards like Macro Cosmos and Dimensional Fissure can hurt your deck more than it will help. So finding other alternative cards to stop the grave effects such as Abyss Dweller, Light-Imprisoning Mirror, and Shadow-Imprisoning mirror will help you against your opponent more than it will hurt you. Stopping opponents from making plays from the graveyard is a big help.
Now sometimes we can't fit all the cards we want in our main deck and side deck. However sometimes we can find cards cards that we can play in the extras deck that can help us along just as much. So before putting your side deck together think about cards that may help you in the extras deck as well to further your game state. I like Ice Beast Zerofyn in my Harpie decks. Ice Beast doesn't target and it hits all face up cards my opponents has on the field. So this card also hits cards ins pendulum zone with effects and can easily have over 3000+ attack and it has an effect that lingers until the end of your opponents next turn. This cards booster counts for all face up cards on the field including yours as long as it hit 1 face up card your opponent controls (even if it doesn't hit them all it only needs to negate 1 to get the boost from all).
Also cards that are easily made in this deck help combo off. If I control an Ice beast i can easily get in for the effects of Abyss Dweller, Castell, Chidori, or any card you want can now target cards it couldn't have before. Lightning Chidori has 2 effects and its second effect and be key even if you don't get both effects off. Most likely if my opponent sets a card it has a grave effect and they want me to crash into it. However sometimes you might want to crash and ignore its second effect to take care of back row. Let the opponent get the extra monster off the effect and push it to the top of the deck setting your opponent back a turn.
So timing with the extras deck matters a lot. The difference between playing the right card at the right time for the right effects makes a huge difference. You have a 15 card extras deck and limited amount of space. So take your time and think before building your extras deck and make sure you have room to comply with how your deck plays. Make sure to play cards that work on both your turn and your opponents turn. Cards like Gagaga Cowboy though not often seen in most deck still finds a home in Harpie's for that last push to win the game and its other effect can come in handy as well that is overlooked.
Side Notes
With Harpie's playing defensively early game and offensive mid to late game tens to work more in your favor unless you are sure you have the win early game. You can win as early as turn 2 with this deck or as late as turn 10. I have learned not to play as aggressive and play more conservatively. Yes it takes time to combo off at times but you have many ways to thin your deck and get to the cards you need at the right time. Your search engines rely on Hysteric Sign, Harpie Harpist, and Harpie Queen when played at the right time and proper way can really make this deck shine. Hope this guide helps you to really learn more about Harpie's and how to play them in todays meta game.