Okay, so by the title you can guess that since I invested some time into League, my yugioh game has been a bit lackluster these past few months, so I decided to give ye olde duel brain a test spin.
And there is this horrible card that is for some reason off the banlist. It's worse than Snatch Steal, Raigeki and BLS all combined.
This piece of garbage right here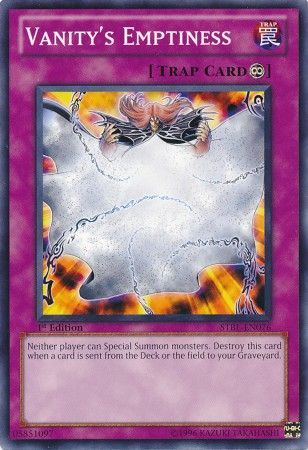 is why I decided to quit after like four games.
It completely shuts down pretty much the main game mechanic (Even worse than Skill drain, which I already hate), and worst of all is that it's so frickin splashable even Volcanic Rat OTK would chuck three copies in. It doesn't even limit your deck like Skill Drain or Decree by making you play around your own copy, because all you have to do is set up a half decent field and this card just games people all on its own. Even if you only block a single special summon before it gets popped, that's disrupting your opponent's play and going a minimum of +0 off the card, which pretty much every game will give you at least one oppurtunity to do so.
PLZ ban konami this is the worst game design I have ever seen kthxbai