Wild Survivors Booster Pack Card List
Release Date:
This base rares (containing no commons or uncommons) booster pack, centers around 3 new play styles. Reveal your path to victory with Vanquish Souls which activate abilities by revealing different Attributes. Spice up your deck with the recipes of Nouvelles; combining different ingredients through rituals to produce a knock out flavor. Finally, Dinosaurs seek to rule again with a boost from the Transcedosaurus cards.
Contains 60 cards:
10 Ultra Rares
15 Super Rares
35 Rares
15 cards in the set are also available as Collector's Rares (Not all known yet)
Introduces the Vanquish Soul and Nouvelles archetypes.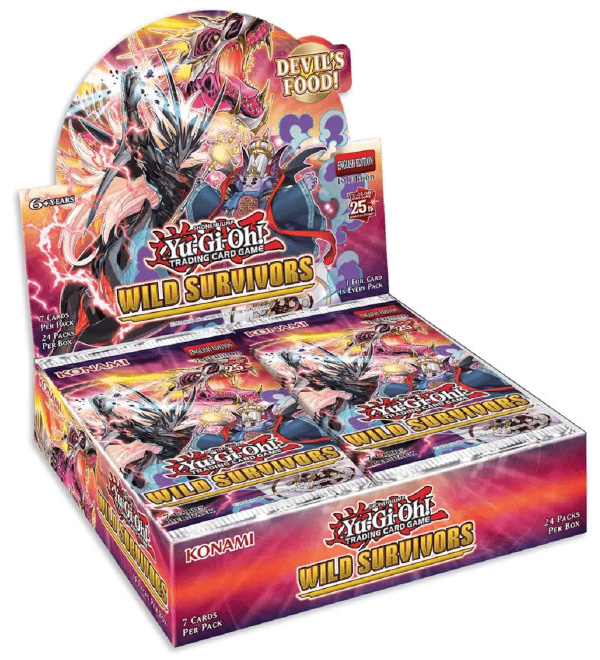 | | | | |
| --- | --- | --- | --- |
| WISU-EN001 | Xeno Meteorus | New | Super Rare, Collector's Rare |
| WISU-EN002 | Transcendosaurus Meteorus | New | Super Rare |
| WISU-EN003 | Transcendosaurus Gigantozowler | New | Super Rare |
| WISU-EN004 | Transcendosaurus Glaciasaurus | New | Rare |
| WISU-EN005 | Transcendosaurus Drillygnathus | New | Rare |
| WISU-EN006 | Ground Xeno | New | Ultra Rare |
| WISU-EN007 | Supersoaring | New | Rare |
| WISU-EN008 | Frostosaurus | Reprint | Rare |
| WISU-EN009 | Ultimate Conductor Tyranno | Reprint | |
| WISU-EN010 | Giant Rex | Reprint | Rare |
| WISU-EN011 | Miscellaneousaurus | Reprint | Rare |
| WISU-EN012 | Souleating Oviraptor | Reprint | |
| WISU-EN013 | Babycerasaurus | Reprint | Rare |
| WISU-EN014 | Petiteranodon | Reprint | Rare |
| WISU-EN015 | Evolzar Solda | Reprint | Rare |
| WISU-EN016 | Vanquish Soul Razen | New | Ultra Rare |
| WISU-EN017 | Vanquish Soul Pantera | New | Ultra Rare |
| WISU-EN018 | Vanquish Soul Heavy Borger | New | Ultra Rare |
| WISU-EN019 | Vanquish Soul Dr. Mad Love | New | Ultra Rare |
| WISU-EN020 | Vanquish Soul Pluton HG | New | Super Rare |
| WISU-EN021 | Vanquish Soul Caesar Valius | New | Ultra Rare, Collector's Rare |
| WISU-EN022 | Rock of the Vanquisher | New | Ultra Rare |
| WISU-EN023 | Stake your Soul! | New | Ultra Rare, Collector's Rare |
| WISU-EN024 | Vanquish Soul Dust Devil | New | Super Rare |
| WISU-EN025 | Vanquish Soul - Continue? | New | Super Rare |
| WISU-EN026 | Vanquish Soul Trinity Burst | New | Super Rare |
| WISU-EN027 | Vanquish Soul Calamity Caesar | New | Rare |
| WISU-EN028 | Fire Formation - Tenki | New | |
| WISU-EN029 | Buerillabaisse de Nouvelles | New | Rare |
| WISU-EN030 | Confiras de Nouvelles | New | Super Rare |
| WISU-EN031 | Poeltis de Nouvelles | New | Super Rare |
| WISU-EN032 | Foie Glasya de Nouvelles | New | Super Rare |
| WISU-EN033 | Balameuniere de Nouvelles | New | Super Rare |
| WISU-EN034 | Baelgrill de Nouvelles | New | Super Rare |
| WISU-EN035 | Nouvelles Restaurant At Table"" | New | Ultra Rare |
| WISU-EN036 | Voici la Carte (Today's Menu) | New | Ultra Rare |
| WISU-EN037 | Recette de Poisson (Fish Recipe) | New | Super Rare |
| WISU-EN038 | Recette de Viande (Meat Recipe) | New | Super Rare |
| WISU-EN039 | Recette de Personnel (Staff Recipe) | New | Rare |
| WISU-EN040 | Chef's Special Recipe | New | |
| WISU-EN041 | Hungry Burger | Reprint | Super Rare, Collector's Rare |
| WISU-EN042 | Hamburger Recipe | Reprint | Rare |
| WISU-EN043 | Impcantation Candoll | Reprint | Rare |
| WISU-EN044 | Impcantation Talismandra | Reprint | Rare |
| WISU-EN045 | Preparation of Rites | Reprint | Rare |
| WISU-EN046 | Manju of the Ten Thousand Hands | Reprint | Rare |
| WISU-EN047 | True King Lithosagym, the Disaster | Reprint | Rare |
| WISU-EN048 | Impcantation Penciplume | Reprint | Rare |
| WISU-EN049 | Impcantation Bookstone | Reprint | Rare |
| WISU-EN050 | Animadorned Archosaur | Reprint | |
| WISU-EN051 | Impcantation Chalislime | Reprint | Rare |
| WISU-EN052 | Enemy Controller | Reprint | Rare |
| WISU-EN053 | Double Evolution Pill | Reprint | Rare |
| WISU-EN054 | Allure of Darkness | Reprint | Rare |
| WISU-EN055 | Fossil Dig | Reprint | Rare |
| WISU-EN056 | Pre-Preparation of Rites | Reprint | Rare |
| WISU-EN057 | Lost World | Reprint | Rare |
| WISU-EN058 | Deck Devastation Virus | Reprint | Rare |
| WISU-EN059 | Eradicator Epidemic Virus | Reprint | Rare |
| WISU-EN060 | There Can Be Only One | Reprint | Rare |
| WISU-EN060 | There Can Be Only One | Reprint | Rare |